Brendan Carlin – Principal – Financial Adviser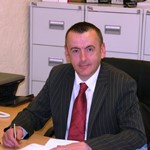 Brendan has been in the Financial Services Sector for 24 years and set up Foyle Financial over 20 years ago.  During this time he has been an Independent Financial Adviser and has amassed extensive knowledge on all aspects of financial planning specialising in Investments, Pensions and Mortgages.
Louise Irwin
Louise specialises in the Mortgage and Protection Market within the business.  Prior to joining Foyle Financial she worked for First Trust Bank for  21 years where she had various roles with both personal and business customers.  Many of her years there were spent as branch mortgage adviser where she gained her extensive knowledge in this area.
Whilst Louise has gained many qualifications over the years within the financial services industry she prides herself mostly on the professional and customer focused advice she offers all clients.
Sheila Moore – Office Manager
Sheila has been with Foyle Financial Ltd for 14 years and looks after everything going on behind the scenes from liaising with all the product providers to helping clients on a daily basis.  She has been in financial services for over 20 years and has a vast knowledge of all things in the sector.
Call Back Request
We will use your name, email address and contact number ('personal information') to contact you about the services you have requested or respond to an enquiry you have submitted. This may require us to share your personal information with any third parties. For further information on how your information is used, including disclosure to third parties, how we maintain security of your information and your rights in relation to the information we hold about you, please see our Privacy Policy on this website or contact Brendan Carlin to get a copy.