Brendan Carlin – Principal – Financial Adviser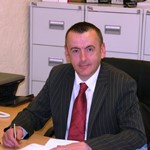 Brendan has been in the Financial Services Sector for over 20 years and the last 19 of these years has been with his own firm Foyle Financial.  He has been an Independent Financial Adviser for all this time during which he has amassed extensive knowledge on all aspects of financial planning specialising in Investments, Pensions and Mortgages.
Paul Burns - Financial Adviser

Paul commenced his career in the financial services sector immediately after completing his university degree in 1996.  He became an Independent Financial Adviser (IFA) over 10 years ago.  Paul is qualified to advise on all aspects of personal financial planning and has attained advanced qualifications in pensions, trusts and investment planning.   Paul is married with two young children and in his free time he is a keen runner and classic car enthusiast.
Sheila Moore – Office Manager
Sheila has been with Foyle Financial for 14 years and looks after everything going on behind the scenes from liaising with all the product providers to helping clients on a daily basis.  She has been in financial services for over 20 years and has a vast knowledge of all things in the sector.